Our team offers expert roof cleaning services to keep your roof in excellent condition.
The roof is unquestionably one of the most important parts of any building, as it is what protects everything inside from water damage. You will obviously want to keep your roof in great condition, and our team at Grime Fighters SoftWash is here to help you do that. We offer thorough, effective roof cleaning services to keep your roof spotless and free of damaging contaminants.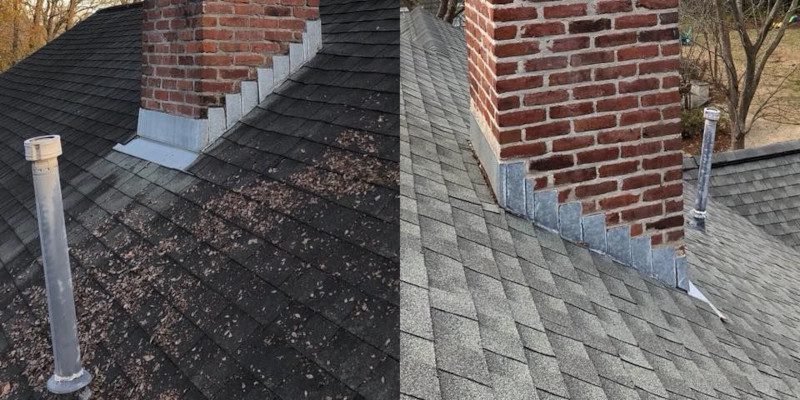 Over time, contaminants such as algae will build up on your roof and cause multiple negative effects. Not only can algae damage your roof, but its dark color also causes your roof to absorb more sunlight, which causes the building to heat up. Our preferred method of roof cleaning, soft washing, is designed to eliminate these contaminants using specialized, biodegradable cleaning products. Then, we'll use a light spray of water to wash everything away.
In addition to the effects we described earlier, algae and other contaminants also trap dirt particles, making your roof even dirtier. So, getting rid of the algae will keep your roof clean longer. To learn more about our roof cleaning services, feel free to reach out to our team—we will be happy to provide a more detailed explanation of our method and its benefits.
We also partner with our sister company to extend the life of your roof even further. Roof Savers offers a proprietary roof treatment designed to add up to five years to the life of a shingle roof, and it is a real bargain compared to the cost of a roof replacement.
We are proud to serve the community in Oshkosh, Wisconsin, and we want to help you keep your roof in the best possible condition. If you need roof cleaning services for your building, just give us a call to get our experts on the job.
---
Roof Cleaning in Stevens Point, WI
Roof Cleaning in Waupaca, WI
Similar Services We Offer: