No matter what type of roofing you have, we can take care of all your roof washing needs.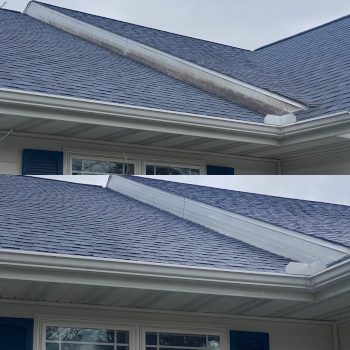 Roof washing is a maintenance item that can be easy to overlook, but to maximize the lifespan of your roofing material, it is generally important to get your roof washed every four to five years. Whether you have asphalt shingles, metal roofing, or another type of roofing material, you can count on us at Grime Fighters SoftWash for all your roof washing needs.
Roof washing can improve the appearance of your home or business, but that isn't the only reason to consider getting this service done regularly. Here are some other reasons to schedule roof washing:
It can reduce your utility bills: Algae growth can create dark spots or areas on your roof. These areas absorb UV rays, making your roof hotter. This can cause you to spend more money on cooling your property.
It can protect your roofing: Mold, mildew, algae, and other microorganisms can actually damage your roof over time as they eat away at the roofing material beneath. Soft washing not only removes the dirt buildup and stains, but it also neutralizes the microorganisms, protecting your roof and giving you a more long-lasting clean.
It can increase the value of your property: Roof washing can extend the life of your roof and improve your curb appeal. Both of these factors help increase the potential selling price of your property.
If you are looking for superior roof washing services near Appleton, Wisconsin, give us a call today. We are SoftWash authorized, family owned and operated, and licensed and insured.
---
Roof Washing in Oshkosh, WI
Roof Washing in Stevens Point, WI